How real estate management units can overcome the COVID-19 pandemic
Over the past several months, the COVID-19 epidemic has had a huge impact on the overall economy. For the Real Estate Operations Management industry, although this market has not had many changes, the pandemic has caused many difficulties in operation.
Difficulties and efforts of the real estate cultural management industry during the COVID-19 pandemic
During the months of social distancing in Hanoi and Ho Chi Minh City, many buildings have applied "3 onsite" or split shifts for cleaning, security, reception or customer care services. This is necessary to prevent the epidemic, but it also reduces the number of personnel. If management units do not have a response plan in place, they will face many difficulties in managing and ensuring service quality.
Mr. Tsuchiya Masahiro - General Director of VISAHO Joint Stock Company, a service provider of Real Estate Operations Management in Japan, said that the epidemic has created a lot of jobs in real estate management and operation, especially in real estate operations. in apartment buildings - where the population density is high, outbreaks are easy. At these projects, the management will not only have to ensure daily services but also carry out additional work on epidemic prevention, support local authorities in propaganda and help residents when organizing testing, Vaccination, isolation or shopping for essentials… Not only the effort, time but even the cost to implement the epidemic prevention policy will also be exceeded. If the operation management unit does not have enough experience and bravery to deal with the epidemic, it will be easy to "break the battle", causing service disruptions and creating frustration for residents and customers, more dangerous than causing damage. disease outbreak in the building.
The general director of VISAHO also said that the operation management during the epidemic season also faces many risks, especially the health problems of employees. Receptionists or security guards cannot avoid contact with many people, even with protective equipment, they cannot guarantee 100% infection-free. If a building employee is infected but is not detected in time, it will have a huge impact on operations, possibly crumbling the entire building's epidemic prevention efforts.
The difficulties caused by the COVID-19 epidemic forced many operation management units to change their ways of doing things, apply more technologies such as disinfection, automatic temperature measurement or building management apps to limit contact. This technological transformation needs to be done in a timely and efficient manner.
"After the COVID-19 epidemic, customers' needs for cultural management units will change, with higher and more professional requirements than before, especially in terms of ensuring safety and benefits for residents. When there are natural disasters, epidemics, and operation management units, if they want to survive, they will need to flexibly handle and respond to that change," said VISAHO's General Director.
The COVID-19 epidemic has made people more aware of the Real Estate Management service industry
With long-term experience drawn the parent company in Japan, VISAHO Joint Stock Company has taken very careful preparation steps when dealing with epidemics at projects. Many solutions to prevent epidemics and stabilize personnel have been implemented during the epidemic season to ensure the safety of residents and the quality of services. Especially, the use of technology to exchange information with residents, "preemptive" anti-epidemic activities such as setting up checkpoints to control people entering / leaving at projects very early or proactively supporting people to Receiving goods at apartments, even connecting clean agricultural products production areas to households are supported by residents and customers.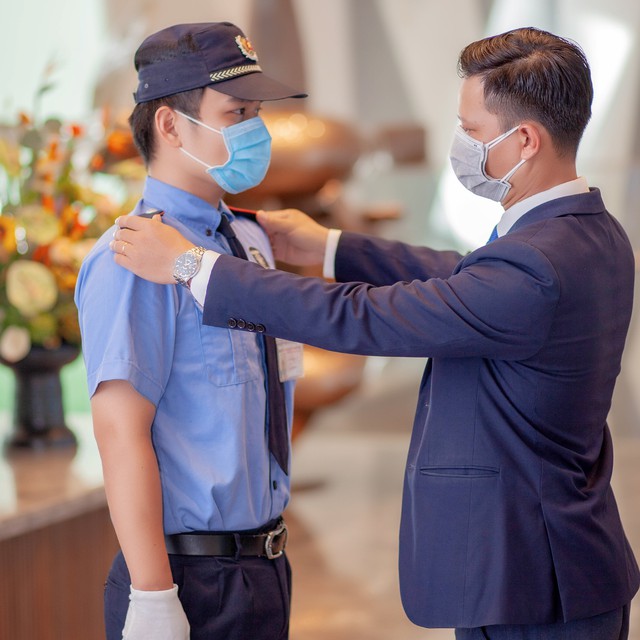 Thanks to wholehearted support and implementation of many measures to protect residents, VISAHO's cultural management departments have received the love and trust of residents and customers. Not only receiving spiritual support, the residents also set up funds and donated necessities to the management board.
Working as an operations manager during the pandemic is inherently a dangerous job, but VISAHO's employees do not mind the difficulties to do their job well. This is also a way for VISAHO to affirm the importance of an operation management unit in modern society.
It is undeniable that the COVID-19 epidemic has made society more aware of the real estate management and operation industry. When the safety and health of the residents in the apartment building are largely determined by the building management unit, this is a necessary condition for the cultural management industry to develop and improve service quality in the future.