Hanoi implement drastic measures to prevent and control COVID-19 epidemic in apartments
Hanoi implement drastic measures to prevent and control COVID-19 epidemic in apartments
    02/03/2021
In Hanoi, the pandemic is gradually being controlled, but the risk of infection is still quite high. After the Lunar New Year holiday, a lot of people return to Hanoi , making the situation more difficult, especially where many households are gathered like crowded apartment complexes. Facing the risk of epidemics, The board of leaders of Hanoi has required localities to inspect people returning to Hanoi from Hai Duong province and outbreaks in the other provinces and cities.
Inspections and control are followed strictly. In apartment buildings, Many district management boards have also sent official letters to the building Management Board to propagate COVID-19 prevention in the community. In Cau Giay district, all ward management boards have sent dispatches to apartments to urge and strengthen supervision and propaganda against COVID-19.
The Notice also states that it is a must to inspect and supervise according to the saying "Going each alley, knocking door-to-door, checking each individual"; immediately report to the People's Committee of the ward, the ward's health station those who returned from Hai Duong and the outbreaks in other provinces and cities for the purpose of isolation, taking samples for testing as soon as possible.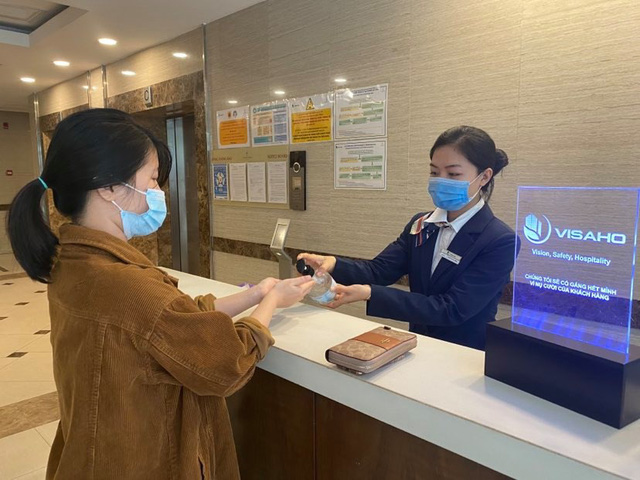 In properties, the receptionists remind and propagate people to take measures against COVID-19 epidemic.
At the moment, Management boards of apartment buildings also pay special attention to anti-epidemic regulations. All apartments and high-rise buildings in Hanoi are equipped with hand sanitizer, leaflets on epidemic prevention, body temperature monitors, etc... At Thang Long Number 1 apartment building (Cau Giay, Hanoi), all staff in the management board and residents wear masks and keep social distancing. Santinizer is always available at the front desk and the elevator; Temperature measurement is carried out for all guests entering and exiting the apartment. All visitors are required to state personal information and medical declarations. Public places such as doors and elevators are always cleaned regularly with antiseptic. Visaho Joint Stock Company - the property management company of this apartment said that anti-epidemic activities have been carried out since the beginning of 2020 and maintained until now.
Talking about disease prevention in apartment buildings in Hanoi in general, Mr. Ito Jutaro - Deputy Director of VISAHO Joint Stock Company, which is managing many apartments and office buildings in Vietnam, said that the apartment buildings is where many households live, many residents or visitors come in and out may bring many risks. Therefore, epidemic prevention in the apartment must be followed carefully any time any place.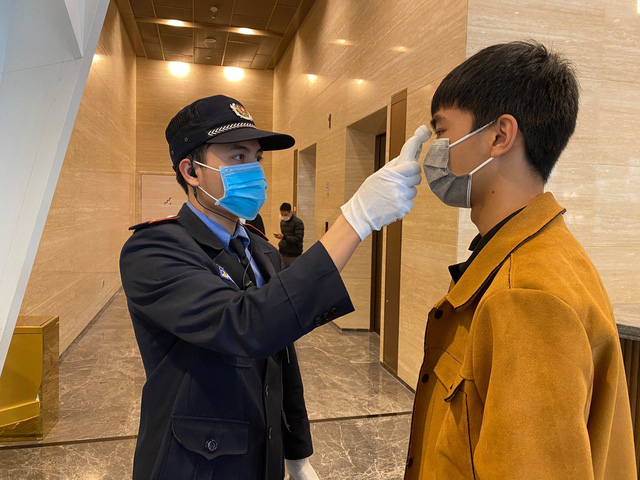 Many apartment buildings and offices control people in and out with measures such as reminding to wear masks, measuring body temperature, and asking to wash hands with antiseptic.
Mr. Ito said: "We are regularly informed by the authorities and the media. We find the new strain of the SARS-CoV-2 virus very dangerous when it has the ability to spread quickly. Realizing the importance In the matter of epidemic prevention, the management board of apartment buildings cooperates with local authorities to prevent the epidemic. We strictly control who comes in and out of the apartment, especially visitors who will have to leave personal information. At the apartments, all staff is trained in epidemic prevention skills to protect themselves and the residents. We always have enough protective gear, masks, and antiseptic to prevent pandemics in the apartment buildings that we are managing." Hong Kong Tower apartment building (Dong Da, Hanoi) - managed by VISAHO is also one of the buildings with many effective COVID-19 prevention initiatives. When the epidemic first broke out in Hanoi, they had the idea of ​​​​using toothpicks to select floors in the elevator, bring more antiseptics for residents. Other apartment buildings also set contact restriction measures such as labeling stickers on the number board and changing it every day.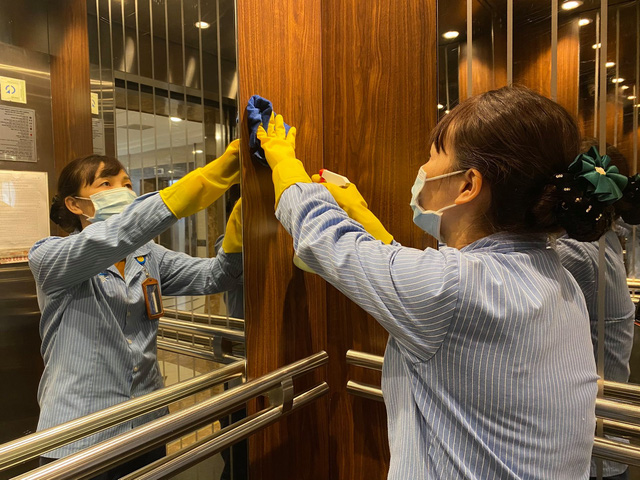 Common places such as elevators, doors need to be regularly disinfected.
Regarding epidemic prevention in the Cau Giay district, the Chairman of the People's Committee of Cau Giay district said that they have activated the entire political system from the district to the ward, increasing more than 1 level in the synchronization of epidemic prevention measures. They also arranged 3 Covid sample collection points at the Cultural House of Nghia Tan, Dich Vong Hau, and Yen Hoa wards. In apartment buildings, it is vital to encourage people to take pandemic prevention measures seriously; assist authorities in updating the situation of people in the area; strictly supervise people returning from Hai Duong and other outbreaks in other provinces and cities to organize isolation and take samples timely.
VTV News:
https://vtv.vn/xa-hoi/trien-khai-quyet-liet-va-linh-hoat-cac-bien-phap-phong-chong-dich-covid-19-tai-chung-cu-20210224144516141.htm?fbclid=IwAR3Rtg0KfKyajdjNNuU6JlJSJ-6NielV6I9ty_xeGubMtHigr49DhVNVtMw