Capital Place and The Sankei Building signed a cooperation agreement
Continuing the success in Ho Chi Minh City, VISAHO (Sankei Building) is very proud when VISAHO earned the trust from Capital Palace and provided management services for the Class A office building at 29 Lieu Giai, Hanoi. All personnel of the building management board of VISAHO (Sankei Building) has achieved the VISAHO Certificate, this is to standardize the high-class service quality of property management.
The Sankei Building appointed to deliver property management services for Capital Place
Tuesday, June 30, 2020, 08:00 GMT+7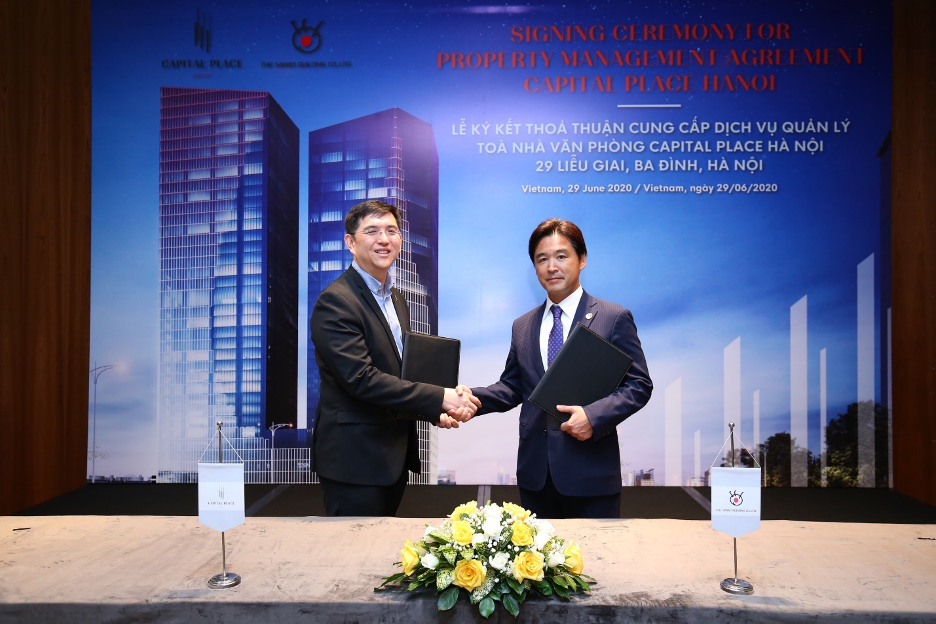 Representatives of Capital Place Hanoi (left) and Visaho Joint Stock Company (right), a subsidiary of The Sankei Building in Vietnam, at the signing ceremony.
Vietnam — The Sankei Building via its Vietnam based subsidiary, Visaho Joint Stock Company, has been appointed to provide property management services for Capital Place – Hanoi's first international grade A modern office development.
In this role, The Sankei Building will be providing a range of services that include operations management, occupier engagement, facilities management, sustainability, and environmental management for the development.
Capital Place will offer a sprawling 100,000 square meters (sqm) of net leasable area across two 37-story office towers with designs built to international standards when it is open in Q3-2020.
Located at Lieu Giai Street, Ba Dinh District, near the Japanese Embassy – one of the most vibrant economic development areas in Hanoi and considered as the Japanese town in the capital city, Capital Place will offer tenants unrivaled, spectacular views of Hanoi's skyline.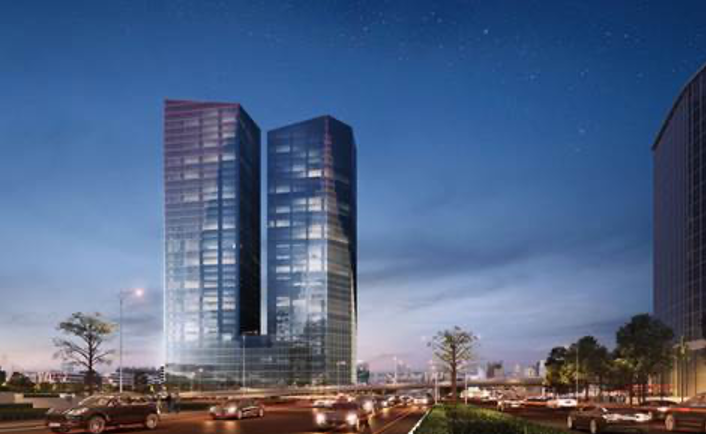 Capital Place will be a key commercial building with a direct connection to Hanoi's subway system at Line 3: Kim Ma – Nhon – Hanoi Station via the commercial floor, creating easier access for enterprises to this building.
Capital Place is the first office development in Hanoi to be LEED-certified for its large green space and sustainable features. LEED is an international standard certification for green architecture.
Capital Place is also the first office in Vietnam that has a column-free concept with a 22.5-meter span. The concept for the towers is to create a dramatic appearance with full glass facades.
The large, efficient, and highly flexible floorplates of each tower ensure the premium office space is suitable for every tenant's needs.
Innovative and extensive greening measures are adopted such as vertical greening of features screens along the project periphery to frame or mitigate views and provide a green backdrop for view lines.
With great values from design to synchronous infrastructure, at the Vietnam Property Awards 2019, Capital Place won four important awards in different categories: Best Office Development, Best Office Architectural Design, Best Universal Design Development, and Best Green Development (Highly Commended).
Moreover, the development excellently claimed the award of 'Best Office Development' in Asia at the prestigious PropertyGuru Asia Property Awards 2019.
According to a real estate expert sharing about the trend in the office market, it can be reshaped after the novel coronavirus disease (COVID-19) pandemic.
Besides preferring a flexible way of working, tenants are also starting to care more about the health of their employees by choosing office space in high-quality buildings instead of just saving money as before.
LEED-certified buildings that converge on environmental factors will be more focused in the future.
Being a pioneer of this trend, Capital Place will set new standards for offices in the capital city in terms of development design, efficiency, scale, services, and technology.
About The Sankei Building (https://www.sankeibldg.co.jp/)
Founded in 1951, The Sankei Building is a real estate investor with a long history.
The Sankei Building develops a wide range of real estate-related businesses, including the development and operation of apartments, hotels, and resorts, and focusing on office buildings from buying to selling activities.
In particular, in the office buildings, the company owns large-scale properties at super high-end locations in two major cities in Japan, Tokyo and Osaka, and delivers property management services for these buildings themselves.
In addition, The Sankei Building has been investing in the development of office buildings and apartments in the U.S. and the Philippines.